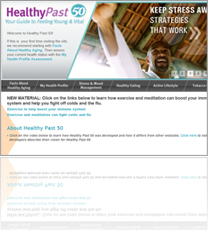 Healthy Past 50
Older workers are more vulnerable to chronic disease, most of which can be prevented by adopting improved health practices. HealthyPast50 targets workers over 50 years of age with segments devoted to healthy aging, healthy eating, stress management, increasing physical activity, and tobacco cessation.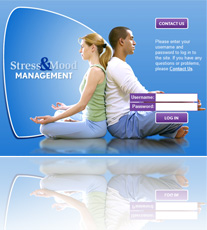 Stress and Mood Management
This program contains segments on Stress Management, Managing Depression, Managing Anxiety, and Treatments that Work. It includes all the material in the basic stress management program, along with extensive segments devoted specifically to the problems of depression and anxiety.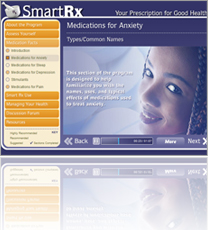 Smart RX
A fully narrated multimedia guide to the safe use of psychotherapeutic prescription drugs, Smart Rx focuses on the use of medications most susceptible to misuse, including those prescribed for depression, anxiety, and chronic pain management. The program also contains a segment on healthy alternatives to medications.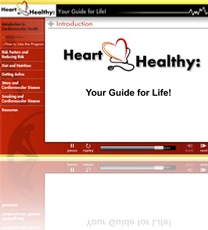 Heart Healthy
Heart Healthy is a cardiovascular disease risk reduction program targeting at-risk workers. In addition to material specific to cardiovascular health, the program also contains modules on healthy eating, smoking cessation, stress management and physical fitness—all oriented toward reducing the risks of heart disease and stroke.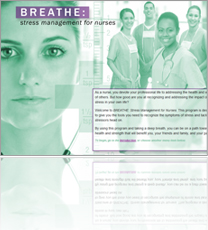 BREATHE: Stress Management for Nurses
BREATHE is a web-based stress management program specifically oriented toward the unique occupational stressors of nursing. Because nurses are often on the move, this multi-media program includes a mobile application accessible by smartphones and tablets. BREATHE was tested at Mount Sinai Hospital and Inova Health Systems, with significant effects shown on nurses' stress.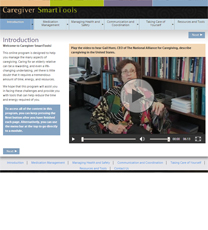 Caregiver SmartTools
The Caregiver SmartTools program provides in-depth information related to medication safety, medical management and general-care issues to more effectively manage the demands of caregiving and promote active self-care. The program provides information on how best to organize and assist with the administration of medications, how to manage medical care, how to monitor changes in health status, how to assess functioning at home, and stress relief strategies for the caregiver.
Products in development
ISA always has multiple products in the pipeline, including the following programs currently in development:
Taking Charge
Working adults are susceptible to a variety of risky behaviors that can interfere with their health and productivity, including alcohol misuse. Our research has shown that substance abuse issues among working adults are best addressed by imbedding such material within the broader, more positive framework of health and wellness. Accordingly, Taking Charge is a mobile Internet-based program designed to promote the health and wellness of employees while also helping them avoid alcohol misuse. Program scheduled for completion in mid-2018.
HALO
This project aims to develop and test two computer-based programs designed to promote the use of the female condom, thereby helping to help prevent sexually transmitted diseases, including HIV/AIDS. HALO is a female condom education and training program for African American women, and HALO in Your Clinic is designed to teach service providers female condom skills and help them adopt and integrate computer-based interventions into their clinical offerings. Program scheduled for completion in mid-2018.
Remembering YOU
Compared with caregivers of people without dementia, twice as many caregivers of people with dementia indicate substantial emotional and physical difficulties and have higher rates of depressed mood, cardiovascular disease, and reduced immune functioning. Remembering YOU is a web-based health promotion program for caregivers of Alzheimer's patients, reflective of the stages and unique challenges of caring for someone with Alzheimer's disease, focusing on self-care and coping skills. Program scheduled for completion in mid-2020.
Aging Well
Unsafe alcohol consumption puts older adults at particular risk for multiple health problems, accidents, and hazardous interactions with medications requiring increased services and health care costs. Aging Well is innovative, web-based alcohol misuse prevention intervention imbedded into a more general health promotion program for older adults. Program scheduled for completion in 2018.
Focus
Clinics need to provide an empirically validated HIV prevention intervention to their clients without creating additional demands on their already overburdened staff. Focus is a computer-based training program to help African American men prevent the spread of HIV by adding an additional barrier method – the female condom – to their arsenal of protection strategies. Program scheduled for completion in 2019.
THRIVE!
Informal caregivers perform an important service in caring for an ailing relative, but often do so at considerable cost to their own well-being. The web-based THRIVE! program is designed to address caregiver's self-care needs in a comprehensive manner emphasizing the reciprocal nature of perceptions, mood, and health behaviors. The intervention will capitalize on recent advances in mobile technologies, including responsive web design, assessments with personalized tracking of program content, and an online coach. Program scheduled for completion in 2019.